Humanitarian aid
People living in distress, people affected by disasters and conflicts and who lost their homes, children from poor families – they all need emergency relief to survive, and ongoing assistance to bring relief in distress.
WHAT DO WE DO TO HELP?
Across the country, we collect clothes and other gifts in kind. Controlling and preparation for shipping is done in our warehouse in Niedernberg. Per truck or container, the aid supplies come to our Regional Ministry Centers (RMC's). Distribution is done in cooperation with the local churches and our RMC's.
HOW DO WE HANDLE THAT?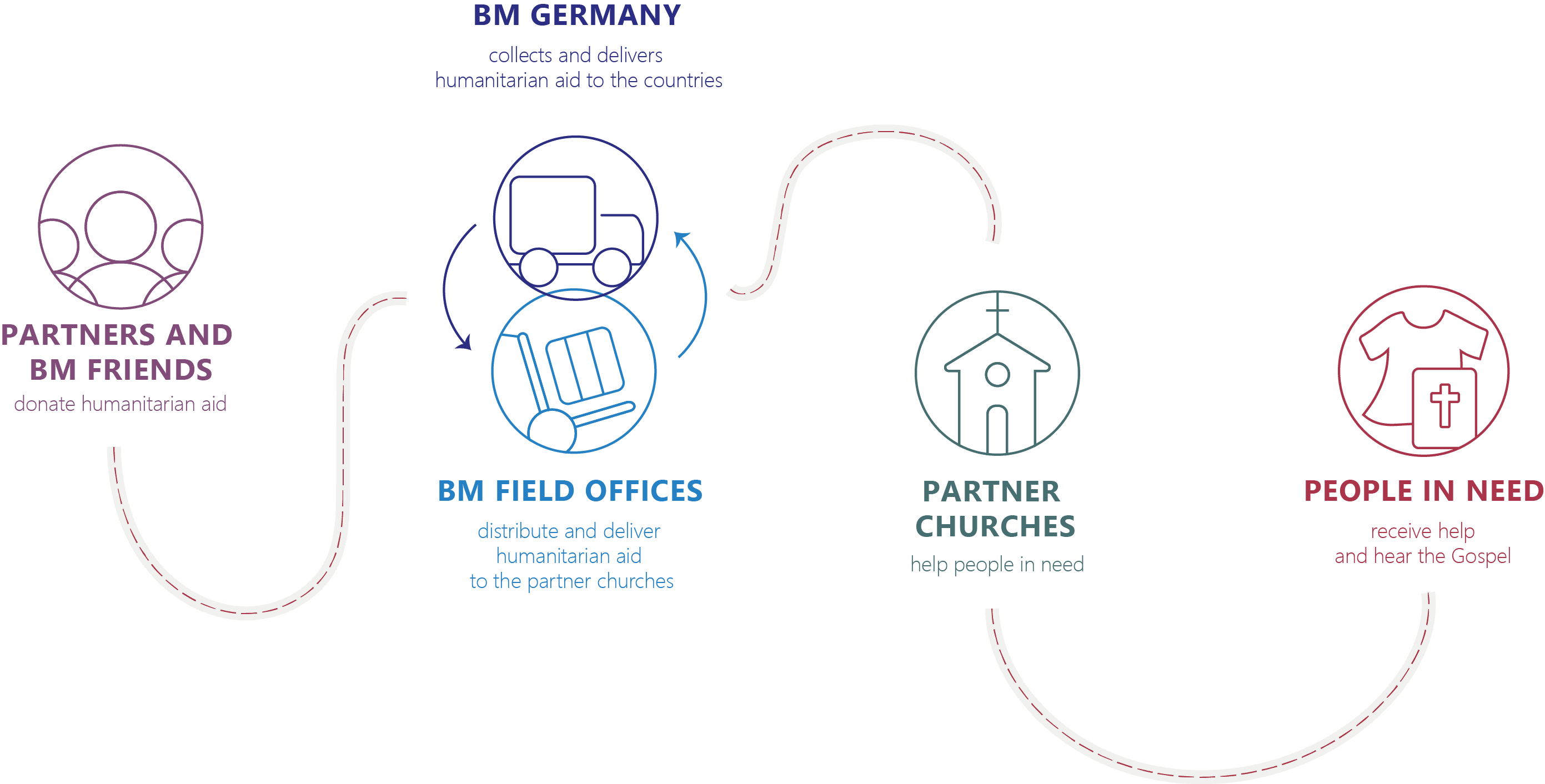 Helping people in need often opens the door for the Gospel, because people can see and experience God's provision in their lives. By providing the local churches with humanitarian aid supplies,we equip them for their important ministry of community outreach. It also helps them to build contacts to the people in the communities.
WHAT´S THE OUTCOME OF THIS MINISTRY?
200
In 2015, we collected, shipped and distributed 200 t of aid supplies.
TO TAKE PART
Your financial support helps us shipping humanitarian aid to the countries of the Former Soviet Union.
All kinds of things in good condition can help people in need: when you sort out your wardrobe, or the bicycle is too small for your children, or they don't play with their toys any more – remember: these things can be a great help for other people.
We always need volunteers to collect, sort and load the humanitarian aid boxes and supplies.
Your message to us:
Questions?
We will be very happy to hear your questions and help in your endeavors ministries that we are before God. We have a section with answers to frequently asked questions – you can find there a lot of useful information. If after this you still have questions – please contact us e-mail or call us.
Bibel-Mission e.V.
Liebigstraße 1
63843 Niedernberg
Tel: 06028-8070-0
Email: info@bibel-mission.de